Create Navigation Menu
Navigation menus allow your users to browse different pages or sections on your website. WordPress comes with a powerful navigation menu system, and your WordPress theme utilizes this system to display menus.

Let's add a navigation menu to your website.
First, you need to visit Appearance » Menus page. Enter a name for your navigation menu and click on the create menu button.
WordPress will now create your navigation menu. But it will be empty at the moment.
Sign up for our free email course if you haven't and learn blogging from the the very start.
Next, you need to select the pages you want to display in your menu and then click on add to menu button.
You will notice your selected pages filling the empty area of your navigation menu. You can move them up and down to rearrange their position in the menu.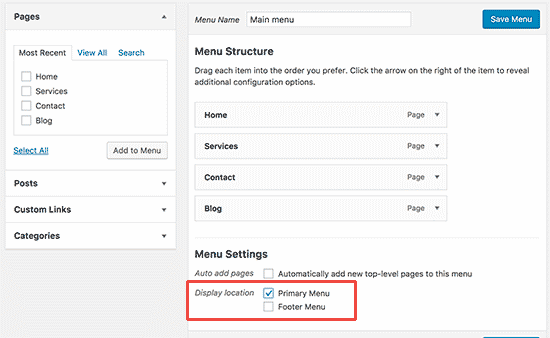 Now you need to select a display location. These locations are defined by your WordPress theme. Usually, most WordPress themes have a default settings that primary menu that appears on top. So, we leave it that way.
Finally, click on the blue save menu button to store your navigation menu.
You can now visit your website to see the menu in action, already visible to you and your visitors.