This article gives a detailed history of the Nigerian government since 1960, featuring happenings in the second republic, abortive third republic, and more..
You should also check out post on list of all Nigerian presidents from 1960 till date. There, you'll find how one government overthrew the other.
The Nigerian Government Since 1960
Nigeria gained independence on October 1st, 1960, as a federation of three regions (northern, western, and eastern) under a constitution that provided for a parliamentary form of government.
Under the constitution, each of the three regions retained a substantial measure of self-government. Learn more about the Nigerian Government Structure & Politics in this article.
The federal government was given exclusive powers in defense and security, foreign relations, and commercial and fiscal policies.
In October 1963, Nigeria altered its relationship with the United Kingdom by proclaiming itself a Federal Republic and promulgating a new constitution. A fourth region (the Midwest) was established that year.
On January 15, 1966, a small group of army officers, mostly southeastern Igbos, overthrew the government and assassinated the federal prime minister and the premiers of the northern and western regions.
The federal military government that assumed power was unable to address ethnic tensions or produce a constitution acceptable to all sections of the country.
Its efforts to abolish the federal structure greatly raised tensions and led to another coup in July.
The coup-related massacre of thousands of Igbo in the north prompted hundreds of thousands of them to return to the south-east, where increasingly strong Igbo secessionist sentiment emerged.
In a move that gave greater autonomy to minority ethnic groups, the military divided the four regions into 12 states. Learn more about the creation of the 36 state and capital in Nigeria here.
The Igbo rejected attempts at constitutional revisions and insisted on full autonomy for the east. Finally, in May 1967, Lt. Col. Emeka Ojukwu, the military governor of the eastern region, who emerged as the leader of increasing Igbo secessionist sentiment, declared the independence of the eastern region as the "Republic of Biafra".
Following the civil war, reconciliation was rapid and effective, and the country turned to the task of economic development. Foreign exchange earnings and government revenues increased spectacularly with the oil price rises of 1973 -74.
On July 29, 1975, Gen. Muritala Muhammed and a group of fellow officers staged a bloodless coup, accusing Gen. Yakubu Gowon's military government of delaying the promised return to civilian rule and becoming corrupt and ineffective.
General Muhammed replaced thousands of civil servants and announced a timetable for the resumption of civilian rule by October 1, 1979. He also announced the government's intention to create new states and to construct a new federal capital in the center of the country.
General Muhammed was assassinated on February 13, 1976 in an abortive coup. His chief of staff, Lt. Gen. Olusegun Obasanjo, became the head of state.
Obasanjo adhered meticulously to the schedule for return to civilian rule, moving to modernize and streamline the armed forces and seeking to use oil revenues to diversify and develop the country's economy.
Seven new states were created in 1976, bringing the total to 19. The process of creating additional states continued until, in 1996, there were 36 states.
The Nigerian Government – Second Republic
A constituent assembly was elected in 1977 to draft a new constitution, which was published by September 21, 1978, when the ban on political activity, in effect since the advent of military rule, was lifted.
Might Interest You: History of Military Rule in Nigeria – Causes and Impacts
First Political parties in Nigeria were formed, and candidates were nominated for president and vice president, the two houses of the National Assembly, governorships, and state houses of assembly.
In 1979, five political parties competed in a series of elections in which a northerner, Alhaji Shehu Shagari of the National Party Of Nigeira (NPN), was elected president. All five parties won representation in the National Assembly.
In August 1983, Shagari and NPN were returned to power in a landslide victory, with a majority of seats in the National Assembly and control of 12 state governments.
But the elections were marred by violence and allegations of widespread vote rigging and electoral malfeasance led to legal battles over the results.
On December 31, 1983, the military overthrew the Second Republic. Maj. Gen. Muhammadu Buhari emerged as the leader of the Supreme Military Council (SMC), the country's new ruling body.
He charged the civilian government with economic mismanagement, widespread corruption, election fraud, and a general lack of concern for the problems of Nigerians.
He also pledged to restore prosperity to Nigeria and to return the government to civilian rule but was stymied in his attempt to deal with Nigeria's severe economic problems.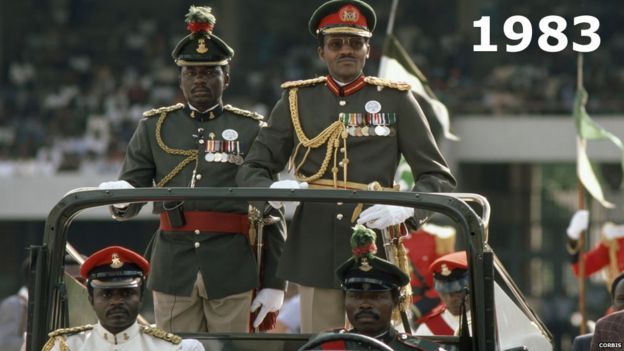 Despite relative popularity for its no-nonsense approach in tackling corruption, the Buhari government was peacefully overthrown by the SMC's third-ranking member, Army Chief of Staff Maj. Gen. Ibrahim Babangida, in August 1985.
Babangida moved to restore freedom of the press and to release political detainees being held without charge.
As part of a 15-month economic emergency, he announced stringent pay cuts for the military, police, and civil servants and enacted similar cuts for the private sector. Imports of rice, corn, and wheat were banned.
Babangida orchestrated a national debate on proposed economic reform and recovery measures, which reportedly convinced him of intense opposition to an economic recovery package dependent on an International Monetary Fund (IMF) loan.
Also Read: List of 45 Visa free countries for Nigeria
Nigerian Government – The Abortive Third Republic
In early 1989, a constituent assembly completed work on a constitution for the Third Republic, and political activity again was permitted.
In April 1990, mid- level officers tried and failed to overthrow Babangida, and 69 accused coup plotters were later executed after secret trials before military tribunals.
On December 1990, the first stage of partisan elections was held at the local government level, followed by gubernatorial and state legislative elections in December 1991; elections were peaceful but turnout was low.
However, Babangida canceled primaries scheduled for August and September 1992 due to fraud. All announced candidates were disqualified from again standing for president once a new election format was selected.
After delayed promises for elections in 1990, the government finally held a presidential election on June 12, 1993.
In what most observers deemed to be Nigeria's fairest elections, early returns indicated that wealthy Yoruba businessman M.K.O Abiola had won a decisive victory.
But on June 23, Babangida, using several pending lawsuits as a justification annulled the election, throwing Nigeria into turmoil.
More than 100 persons were killed in riots before Babangida agreed to hand power to an "interim government" on August 27.
Babangida then attempted to renege on his decision. Without popular and military support, he was forced to hand over to Earnest Shonekan, a prominent nonpartisan businessman. Shonekan was to rule until new elections, slated for February 1994.
Although he had led Babangida's Transitional Council since early 1993, Shonekan was unable to reverse Nigeria's ever-growing economic problems or to defuse lingering political tension.
With the country sliding into chaos, Defense Minister General Sani Abacha quickly assumed power and forced Shonekan's "resignation" on November 17, 1993.
Abacha dissolved all democratic political institutions and replaced elected governors with military officers. Abacha promised to return the government to civilian rule but refused to announce a timetable.
Following the annulment of the June 12 decision, the United States and other nations imposed various sanctions on Nigeria, including restrictions on travel by government officials and their families and suspension of arms sales and military assistance.
On June 6, 2018, President Muhamadu Buhari Honors Late MKO Abiola, winner of the annulled June 12, 1993 presidential election, with the highest national honour, Grand Commander of the Federal Republic GCFR and declares June 12 democracy day.
Additional sanctions were imposed as a result of Nigeria's failure to gain full certification for its counter-narcotics efforts.
Although Abacha's takeover was initially welcomed by many Nigerians, disenchantment grew rapidly.
Many opposition figures formed the "National Democratic Coalition (NADECO)" to campaign for an immediate return to civilian rule, and most Nigerians boycotted the May 1994 polls for delegates to a government-sponsored Constitutional Conference.
On June 11, 1994, using the groundwork laid by NADECO, Abiola declared himself president and went into hiding. He remerged and was promptly arrested on June 23.
A series of strikes by petroleum workers and other unions initially brought economic life in Lagos and the southwest to a standstill, but by mid-August Abacha had dismissed the national union leadership, arrested his opponents, closed media houses, and moved strongly to curb dissent.
In early 1995,  Abacha alleged that some 40 military officers and civilians were engaged in a coup plot, including former head of state Olusegun Obasanjo and his deputy, retired Gen. Shehu Musa Yar'Adua.
After a secret tribunal, most of the accused were convicted, and several death sentences were handed down.
The tribunal also charged, convicted, and sentenced prominent human rights activists, journalists, and others- including relatives of the coup suspects for their alleged "anti-regime" activities.
In an October 1, 1995 address to the nation, Gen. Sani Abacha announced the timetable for a 3-year transition to civilian rule.
Public turnout for the local elections in December 1997 and the state assembly and gubernatorial elections in April 1998 was under 10%, and public reaction to Abacha's presidential nomination by the five accepted parties was apathy and a near-complete boycott.
Widely expected to succeed himself as a civilian president on October 1, 1998, he remained head of state until his death on June 8 of that year.
Also Read: The Nigerian profile – quick facts you should know
During the Abacha regime, the government continued to enforce its arbitrary authority through the federal security system—the military, the state security service and the courts.
Gen. Sani Abacha was succeeded by Gen. Abdusalami Abubakar, who subsequently released civilian political detainees and decreased the number of reported human rights and abuses.
The Nigerian Government – Abubakar's Transition to Civilian Rule
During both the Abacha and Abubakar eras, Nigeria's main decision-making organ was the military Provisional Ruling Council (PRC) which governed by decree.
The PRC oversaw the 32-member federal Executive governed by decree. The PRC oversaw the 32-member Federal Executive Council composed of civilians and military officers.
Pending the promulgation of the constitution written by the constitutional conference in 1995, the government observed some provisions of the 1979 and 1989 constitutions.
Neither Abacha nor Abubakar lifted the decree suspending the 1979 constitution, and the 1989 constitution was not implemented.
The judiciary's authority and independence was significantly impaired during the Abacha era by the military regime's arrogation of judicial power and prohibition of court review of its action.
The court system continued to be hampered by corruption and lack of resources after Abacha's death. In an attempt to alleviate such problems, Abubakar's government implemented a civil service pay raise and other reforms.
In August 1998, the Abubakar government appointed the Independent National Electoral Commission (INEC) to conduct elections for local government councils, state legislatures and governors, the National Assembly, and president.
INEC held a series of four successive elections between December 1998 and February 1999 and former military head of state Olusegun Obasanjo, freed from prison by Abubakar emerged as President of the Federal Republic of Nigeria.
The PRC promulgated a new constitution, based largely on the suspended 1979 constitution, before the May 29, 1999 inauguration of new civilian president.
The constitution included provisions for a bicameral legislature, the National Assembly, consisting of a 360-member House of Representatives and a 109-member Senate.
The executive branch and the office of president retained strong federal power while the legislature and judiciary, having suffered years of neglect, were finally being rebuild as institutions to exercise their constitutional roles in the balance of power.
Also Read: Updated list of local governments in Lagos state
Nigerian Government – The Obasanjo Administration
The emergence of a democratic Nigeria in May 1999 ended 16 years of consecutive military rule.
President Olusegun Obasanjo became the steward of a country suffering economic stagnation and the deterioration of most of its democratic institutions.
Obasanjo, a former general, was admired for his stand against the Abacha dictatorship, his record of returning the federal government to civilian rule in 1979, and his claim to represent all Nigerians regardless of religion.
The new President took over a country that faced many problems, including a dysfunctional bureaucracy, collapsed infrastructure, and a military that wanted a reward for returning quietly to the barracks.
The president moved quickly and retired hundreds of military officers who held political positions, established a blue-ribbon panel to investigate human rights violations, ordered the release of scores of persons held without charge, and rescinded a number of questionable licenses and contracts let by the previous military regimes.
The government also moved to recover millions of dollars in funds secreted in overseas accounts.
Also Read: Taxation in Nigeria explained in detail
Most civil society leaders and Nigerians saw a marked improvement in human rights and democratic practice under Obasanjo with the press also enjoying greater freedom than under previous governments.
As Nigerians works out representational democracy, there have been conflicts between the executive and legislative branches over appropriations and other proposed legislation.
A sign of federalism has been the growing visibility of state governors and the inherent friction between Abuja and the various state capitals over resource allocation.
In 2003, President Obasanjo was re-elected for a sound four year term as President.
NIGERIAN GENERAL ELECTIONS
Civilian Transition
Nigeria held state legislative, gubernatorial, national, legislative and presidential elections on April 2007 and Nigeria experienced its first transition of power between civilian administrations when President Obasanjo stepped down on May 29, 2007.
Related: How Abuja Was Created and Chosen as Nigeria's Capital
Newly-elected President Umaru Yar'Adua, a respected governor from the northern state of Kastina, pledged publicly to make electoral reform, peace and security in the Niger Delta, and continued electoral reform his top priorities.
While much reform remained unimplemented, the Yar'Adua Administration must be applauded for its stance on transparency and the rule of law.
On November 23, 2009, President Yar'Adua was flown to Jeddah, Saudi Arabia for emergency medical treatment.
After a prolonged absence, on February 9, 2010 the Nigerian National Assembly passed a resolution that transmitted presidential power to Vice President Goodluck Jonathan, giving him the title and responsibilities of Acting President.
On March 17, 2010, Acting President Goodluck Jonathan dissolved the country's cabinet, and swore in new cabinet ministers on April 6, 2010.
Following the death of President Yar'Adua on May 6, 2010, the Nigerian Chief Justice swore in Goodluck Jonathan as President.
In April 2011, the Independent National Electoral Commission organized legislative, gubernatorial, and presidential elections.
The opposition Action Congress of Nigeria captured additional governorship and National Assembly seats, although majority of such positions continue to be held by the ruling People's Democratic Party.
President Jonathan captured 59 percent of the national vote, beating his main rival and former Head of State, general Muhammadu Buhari of the Congress for Progressive Change who won 32 percent.
The elections were considered Nigeria's most successful since its return to multiparty democracy in 1999, and reversed a downward trajectory of successively flawed election processes. President Jonathan was sworn in on May 29, 2011.
Watch out for part 2:
Source: Nigerian compendium
Found this to be helpful? Please like and share.